The project owner gave my contractor/client a site plan along with a local PA architect's design concept that had the prior approval of the community. I had no latitude to depart from the scheme. Engineering had not been done to determine if it was even possible to comply with the requirements for mandated parking and maximum building height. Without resolving these issues, the building could not meet code or be ultimately buildable. I was asked to make the project work and given a four-month deadline to create permit ready construction documents.
Parking problems.
The site was irregularly shaped, (see illustration) affecting the footprint of the building. Due to a lack of on-site parking, the first level needed to be a utilized as a garage. Local zoning required 24 total parking spaces. Six were available on the adjacent street, leaving 18 cars to be parked under the building. Due to an oddly shaped structure, columns coming down into the parking lot restricted usable space. Structural elements, roadway access, beam spans, and the layout of parking spaces, were so interrelated that changing one piece affected all the others. Developing a workable scheme was like solving a Chinese puzzle. In tandem with my engineer, by trial and error, we managed to create a system to accommodate 18 parking spaces and meet the seven-foot minimum ceiling height required by code.
Building height zoning requirements.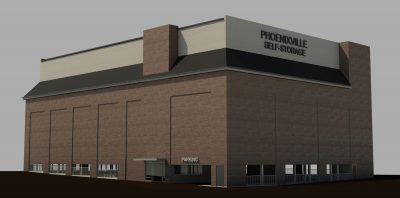 I had already started designing when the civil engineer informed me that I could not exceed a total of 61 feet of building height. I met the requirements within one inch by manipulating floor-to-floor heights and roof slope.
Cost saving measures.
The original architect had specified an all-brick exterior. Brick is expensive and difficult to insulate. I searched for an affordable solution that would preserve the desired look. After considering an EIFS imitation brick, I decided to go with a ½ "brick veneer over insulated metal panels.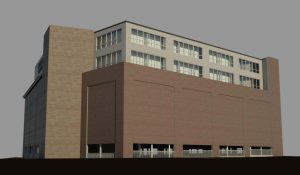 I manipulated the fire ratings to save money. I engineered the garage, and the two levels above it as three-hour-rated construction. The fourth level slab was a three-hour-rated podium, allowing the construction of the fourth, fifth and sixth floors to be non-rated. This scheme eliminated the need to spray fireproof and wrap all the columns with protective metal on those levels.
As of this writing (12/21) the project has not been built and the owner is changing contractors. I have been paid in full for my plans.